"Don't take notes, take part" they said. So, we did just that.

Here's what happened today at Tobacco Dock. This was #Nonference 2019. pic.twitter.com/cT6Lb2Ifr7

— IAB UK (@IABUK) 29 October 2019
16:00/That's a Wrap
And we're done! Join us for a drink on the lower ground floor (or head home early and pretend to work that it didn't finish until six). The choice is yours – but we'd love to see you!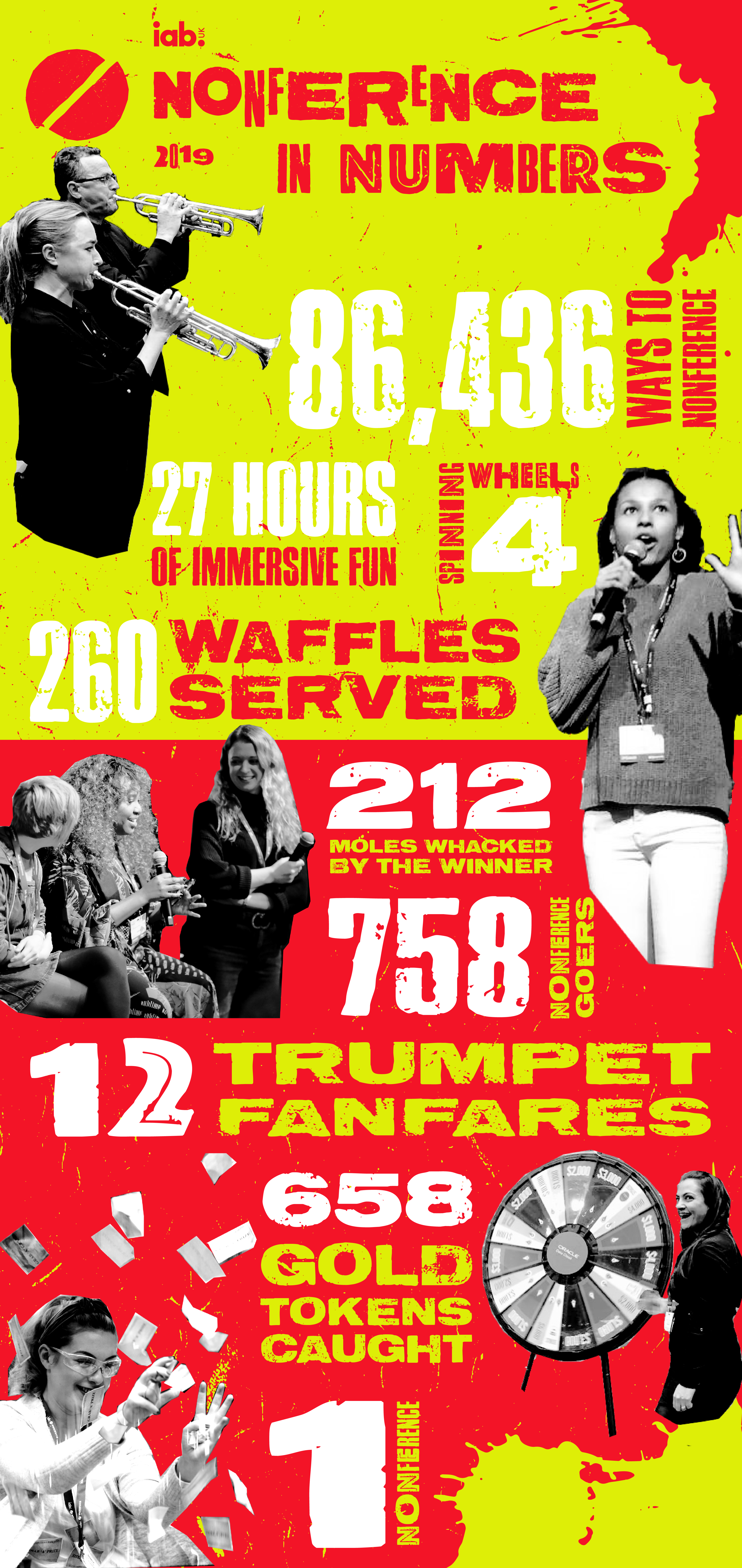 It's 4 o'clock, which means - THAT'S A WRAP.

We've danced and we've laughed, we've played gameshows and quiz shows, we've spun wheels, we've launched a festival and celebrated Christmas, but for #Nonference 2019, that's it. pic.twitter.com/eOCH5Q3QIh

— IAB UK (@IABUK) 29 October 2019
16:00/Digital in the Dark
Jessie live from Room 2: Headphones? ON. Blindfolds? Check! Essential oils? Yep. Fans? Of course. Stink bombs? Er, OK. Sweets? Yes please. Starcom and Global take us on an epic multi-sensory journey through the world of the internet, complete with Baby Shark, brawling cats, classical music and Vardy-gate. The moral of the story? Think about your consumers' experience and think about the creative.
Ending #Nonference with a multi-sensory meditation session from @Starcom_UK and @Global so that our Nonferencers can feel, smell and taste the digital user experience first-hand. pic.twitter.com/IH0NyctNHk

— IAB UK (@IABUK) 29 October 2019
16:00/Wheel of Data Fortune
Jessie live from Room 6: Spin the Wheel! An interactive session from Blis considers the risks and rewards inherent in a plethora of different data types available today Ben Phillips from location data tech business Blis explores bespoke targeting to a mass audience – challenging teams to spin his ' data wheel of fortune', and to think about the limitations and the possibilities inherent in the vast array of data sources today – whether wearable tech, location, social, search, sales or market research…
"Don't hold ba.... oh, you didn't."@unrulyco's Quiet Riot is going OFF.

And this guy is our new #Nonference favourite. pic.twitter.com/orgEBBVBB1

— IAB UK (@IABUK) 29 October 2019
15:50/Jingle Bell Shop
Lucy live from Room 1: Shaken, not stirred. With Christmas almost open us, OpenX explores reaching holiday shoppers in the age of digital.Nonferencers are warned that, whilst new tech has shaken up advertising, the key for consumers is still relevance. To make the most of the impending festive season, marketers must 'make it easy to buy': "There is lots of choice but we need to get hold of it as an industry, and give it a shake."
15:40/The Programmatic Olympics
Jessie live from Room 3: GumGum's Peter Wallace promises to mess with our heads and confuse our eyes as we explore how the brain processes pictures and the significance of iconic sporting imagery. We get into the Olympic spirit with a quiz (there's a bottle of champagne up for grabs so it's the winning that counts) and hear how advertisers can instantly capture a specific sporting moment to create impact.
15:40/The Auction Arms
Jessie live from Room 7: Pints, programmatic and a pub quiz! The Auction Arms is buzzing as the teams battle it out and test their knowledge of universal IDs, 5G, viewability benchmarks and connected TV (with a few general knowledge brain teasers thrown in for good measure). Speaking of measures, time for a G&T?
Last session of #Nonference 2019 and think it's fair to say the mood has shifted. We've got a pub in Room 7, @GumGum's Programmatic Olympics in Room 3, a silent disco from @unrulyco down in Room 4 and it's actual Christmas in Room 1 thanks to @OpenX. pic.twitter.com/KTie8cSzDv

— IAB UK (@IABUK) 29 October 2019
15:30/The Quiet Riot: Video in a Sound-Off World
Jessie live from Room 4: The cocktails are flowing and the silent disco is in full swing! Unruly tells us how to optimise creative and improve video advertising for our sound-off world. But now to don some headphones and bust some moves.
15:00/Build-a-Bot
Jessie live from Room 6: Armed with their weirdest facts, the audience put their heads together and get down to some chatbot building with Rakuten Viber. Sir Alan Sugar, Bake-Off and Queen Bey all make it into bot form but who will be crowned the winner? Beyonce takes the top spot.
15:00/Asking for a Friend
Lucy live from Room 3: Digital advertising myths and truths are being uncovered each minute as part of Zenith's fast-paced ad tech quiz… What are the most common voice commands used on voice assistants? What is the top searched 'what is' question on Google? What percentage of Kim Kardashian's Instagram followers are fake? This – and more – is what Nonferencers are discovering in Zenith's interactive session this afternoon at Tobacco Dock, a veritable whistle-stop tour of digital advertising.
Machine learning takes centre stage, but what is
all the Rage About the Machine? Join @Quantcast as they reveal how AI will be able to pair wine with your favourite cheese at #Nonference. pic.twitter.com/ycneX4sRT3

— IAB UK (@IABUK) 29 October 2019
14:55/Rage About the Machine
Jessie live from Room 1: Cheese, wine and a look at machine learning with Quantcast in room 1 (stay tuned, all will become clear). Modelling Scientist Sermetcan Baysal takes us through how humans make decisions and how we can teach machines to learn autonomously. And the wine and cheese? AI can perfectly pair the two – who knew!?
14:55/Storytime... Live
Lucy live from Room 5: #Nonference 2019: How to grab attention online – and why stories became an overnight sensation.AdYouLike's session points to the importance of interactive video when telling stories online. 'The way we share content will be video,' Nonferencers are told. 'Stories and snackable video are the future'. Pointing to short attention spans and the creative considerations necessary when devising branded stories, this interactive session is focused on true engagement …
Happy, well informed, and climbing on the furniture. That's what a day at #Nonference does to you. pic.twitter.com/eaB5yuUMBH

— IAB UK (@IABUK) 29 October 2019
14:50/Wired for Sound
Jessie live from Room 7: They've teamed up, had their briefs and drafted audio scripts – now the proof is in the listening! All ears as the groups present back. Don't forget, the #1 idea will actually be recorded so it's all to play for.
14:40/Gen $: I Need A Dollar
Tom live from Room 2: Gen-Z are everywhere today at Tobacco Dock. LADbible Group bring us a team of young people to talk about how they make content and how they curate their lives. "If you followed a lot of influencers around you'd see their lives aren't nearly as glamorous as they look". We also all learn what a 'hype-beast' is: someone who follows all the latest trends in fashion to stay ahead of the curve. "They're cooler than you basically". Good to know, Gen-Z. Good to know!
A man from the @guardian has just spun the @Telegraph's wheel. #Nonference 2019: bringing people together since 9:30am.

To see what else you're missing, visit our live feed https://t.co/5CD8jIY2Wx pic.twitter.com/zrfC2xsbVm

— IAB UK (@IABUK) 29 October 2019
14:20/Brexit: Beyond the Spin
Jessie live from Room 4: It's all about the B-word in room 4. Audience members spin the wheel and look beyond the Brexit spin with the help of The Telegraph's Front Bench Editor Daniel Capurro. What does an election mean for Brexit? Where do the DUP stand now? And what's Labour's view on our EU exit? We're learning LOTS.
14:15/Spin It to Win It
Tom live from Room 2: We're spinning back to the 90s with Taptica as three of the team here get to play a programmatic game of Wheel of Fortune. Zoe, Dinesh and Stacey took it in turns to spin, pick a letter and try to guess the hot phrase from advertising and ad tech. Turns out "Addressability", "Demand Side Platform" and "General Data Protection Regulation" might not all spring to mind as easily as they do during a day in the office!
14:15/No Bullsh*t Leadership
Lucy live from Room 5: Nimbleness and agility are the result of a decision making culture, Havas Creative tells #Nonference after lunch. While it's all very well talking vision and mission, understanding where you are today and where you're trying to get to, leadership is about getting between those two points and making decisions, delegates are told. 'Most organisations aren't unique; they are just trying to do a common thing better than the competition'.
14:00/Move Over Millennials
Jessie live from Room 3: We all know about influencers, but what about kidfluencers? Mum of kidfluencers Kailem and Zizi joins CBBC presenter Nigel Clarke on Generation Media's panel to discuss what makes Gen Alpha tick. And there's an interactive audience quiz! Fun fact: Peppa Pig is the most popular kids show when it comes to content consumed online. By George! (one for the Peppa fans).
14:00/InstaDOOH
Lucy live from Room 7: It's all in the context; Why audience, moment and message are critical when devising OOH campaigns. Out of Home is expanding, delegates at #Nonference learn, as QDOT and Talon Outdoor deliver an interactive session encouraging advertisers to think about different mindsets and moments when they brainstorm an OOH ad. Think about trigger data, to create really contextual and relevant ads. Think about the moment, and the mindset, we're told...
Go for Gold (Standard) with our FANtastic cash grabber. #Nonference pic.twitter.com/CtzIYliBU0

— IAB UK (@IABUK) 29 October 2019
13:50/The Box Bingo
Lucy live from Room 4: MobileFix's Simon Andrews wakes us all up after lunch with a session exploring how television has been reinvented for advertisers, platforms and viewers. As viewers switch to Amazon Prime, Netflix and SnapDiscover, we need a different ad model. Fortunately brands are evolving their thinking when it comes to precision targeting of mass audiences. Whether its targeted ads on addressable platforms, product or AI supported contextual placement, the centre of gravity has moved from Hollywood to major data centres.
Guy comes on stage dressed as a Cookie Monster. Yes ladies and gentlemen, it's the @guardian #nonference pic.twitter.com/KVyPz5TdVp

— C A R R I E (@carrietmillard) 29 October 2019
13:40/That's the Way the Cookie Crumbles
Jessie live from Room 1: "I know, I look like a right muppet" - The Guardian's Dee Frew opens the first post-lunch session in full Cookie Monster garb. Why? We're talking cookies, via the medium of children's party games. Why were cookies created? How do we use them now? And what happens when the cookie crumbles? Lots of big questions being chewed over.
Phones out at a conference??? It must be @IABUK #Nonference! We're looking at Instagram ads and why we've been targeted with them. @GrandVisual @TalonOOH pic.twitter.com/fGYWxKxACj

— QDOT Media (@QDOTMedia) 29 October 2019
Come for the insights, stay for the waffles. Thanks @IABUK and @Tailify #Nonference pic.twitter.com/2oR8YRrXv9

— Steve Payne (@paynOOHtron) 29 October 2019
Did we mention we're also sponsoring this year's Innovation stream @IABUK's #Nonference? We wanted to get behind some of the most exciting companies in the creative/ ad space, like @unrulyco, @the7stars and @amillionads. Check out today's programme: https://t.co/zBtU9yypTs pic.twitter.com/xDi1lmamzS

— Verizon Media UK (@VerizonMedia_UK) 29 October 2019
The countdown to our Quiet Riot begins! Room 4 at 3:20 is where the party will be at! #Nonference @IABUK pic.twitter.com/YdfcHHfH1Y

— Unruly (@unrulyco) 29 October 2019
13:45/You Need to Calm Down
And breathe! The audience are tasked with each picking a calming song as Patrick Melville immerses us in a stress-busting, interactive workshop. We are more productive and make better decisions when we remain calm (not to mention the health benefits of staving off stress). We hear how our companies can help support this mindset
12:15/Lunch
Lunch time! If you're here, join us on the Lower Ground Floor for food and some polite mingling. Afternoon sessions start at 1.20pm. ps. Don't miss Tailify's waffle stand, guaranteed to warm you up.
12:05/The Good, the Bad and the Podly
Jessie live from Room 5: The audience put their questions to Acast and Luke Moore, host of The Football Ramble podcast. Looking ahead to 2020, Luke says that there will be a new show for the new year "different to anything we've done before" and he'd like to get out of the studio to create more narrative-led content.
12:05/Getting Innovative with Native - Outside Social
Lucy live from Room 4: Native advertising myths, busted...The innovation stream at Tobacco Dock today sees Verizon Media bust myths around native advertising, sharing details of research which shows that native formats deliver more than just good click through and conversion rates, thanks to respectful ads which blend in to quality editorial content.
Thanks for the waffle @IABUK @Tailify #Nonference pic.twitter.com/K2mVoL0yt8

— lifeofshayan (@lifeofshayan) 29 October 2019
12:00/No Waze!
Jessie live from Room 3: "You say Mayor's Transport Strategy and you get people dozing off, but this about saving and improving lives". TFL joins Waze on stage to give us an insight into how they're teaming up with tech partners to keep London moving every day. Up next, we meet a volunteer Waze map editor to hear why he makes updates – "it's interesting and it's social".
The #GoldStandard cash-grabber has been revealed. START THE FAAAANS!

Head to the Lower Ground Floor all day for your chance to win some golden prizes. #Nonference pic.twitter.com/TqF7w2oJs9

— IAB UK (@IABUK) 29 October 2019
12:00/A Carnival of Creativity
Lucy live from Room 6: With sonic branding having taken off in 2019, voice experience specialists Rabbit & Pork lead a collaborative workshop at Nonference today. What's that noise? With a variety of musical instruments on the tables, Nonferencers design their own jingles and bring to life the power of sonic branding.
11:55/Going for Gold Standard
Jessie live from Room 2: We've put our Gold Standard knowledge to the test (gold star, obvs) now bring on the cash grabber! The audience are limbering up to go for gold as the notes start to fly. Aim of the game - grab as many gold notes as possible to be in with a chance of winning.
Voice ideas in the making 🗣🗣 #voicefirst #Nonference @IABUK pic.twitter.com/bCdMfGRF1t

— Rabbit & Pork (@rabbit_andpork) 29 October 2019
11:40/Ask the Creators
Jessie live from Room 1: Inside the minds of influencers in room 1 with Tribe as content creators Emma Green, Bushra Sidd & Florence Sevensma give us an insight on how they have built their Instagram followings – from fitness to fashion. Big emphasis on having a clear message and being yourself to create trust with followers.
11:40/A Festival of FYRE and ICE
Jessie live from Room 7: Wristbands on, freebies galore and swimming in celebs with IAB UK's Influencer Group… sort of. Ja Rule, Kendall Jenner and meme maestro Andy King are joined by FYRE festival organiser Billy McFarland* to explore the dos and don'ts of influencer marketing. *Disclaimer: those are masks guys, not the real deal.
What treats does Session 3 bring?

We've got:
👍 Native outside social from @VerizonMedia_UK
🚗 NO WAZE! Hi @waze
🦆 @rabbit_andpork serving us hook-a-duck. pic.twitter.com/mWRKuyYwRK

— IAB UK (@IABUK) 29 October 2019
We don't need 'Our Graham' to tell us how amazing this looks! #Nonference https://t.co/sI4eVVlcTp

— IAB UK (@IABUK) 29 October 2019
11:10/The Future is Fake
Lucy live from Room 6: Future on demand… Mindshare tasks those at Nonference to brainstorm the future, today. Nonferencers aren't just looking into a crystal ball. They are tasked with drawing the future, considering how shopping habits will change, as well as entertainment and leisure habits, school and work, how we make friendships, develop relationships, communicate and share news and information.
11:10/Stop, Look, Listen... to Your Brand
Jessie live from Room 4: It's all about the power of personalisation in A Million Ads' session as they get the help of audience members to create personalised audio ads in real time. To prep for this session, the team created 23,664,860 variations of an audio ad, tailored to each person at Nonference today. Check yours out here (via a chrome browser): amillionads.com/nonference
11:00/Born Online
Jessie live from Room 3: They're the new kids on the block, but how are Direct to Consumer brands changing the retail rules? Steph Douglas, Founder of Don't Buy Her Flowers and Kate Huang, CMO of Callaly tell us how they're using digital channels to build their brands and loyal followings. Check out our DTC report for more: iabuk.com/bornonline
10:55/TikTok with TikTok
Jessie live from Room 1: Standing room only as TikTok give us an intro on how to us the app. Following a look at some of the most popular # challenges on the app and a great live demo, the audience gets stuck in to creating their own TikToks. Top tip for new starters: be authentic.
Who wants to hold the industry Brand Safety whack a mole high score? #nonference @iabuk pic.twitter.com/pCPD19dc5D

— Bethan Crockett (@bethan_crockett) 29 October 2019
10:50/The answer to life, the universe, and everything
Lucy live from Room 5: Are you asking the right questions? MiQ leads a workshop to help Nonferencers reimagine digital advertising by challenging assumptions and focusing on outcomes. How do you measure success? This is the question on everyone's lips at MiQ's interactive workshop, where #Nonference delegates are challenged to refocus their energies into asking the right questions.
10:45/Brand Date
Jessie live from Room 7: Here we go… Blind Date is back with an affiliate marketing twist! The audience are tasked with picking the right partner for their campaign brief from a choice of three lovely publishers looking for the perfect match. All together now… what's your name and where do you come from?
10:40/Wheel of Brand Fortune
Lucy live from Room 2: Prizes up for grabs! Oracle Data Cloud gets two teams together to test their knowledge on brand safety, contextual intelligence and advertising at large. With prizes on offer this game-show inspired session tests #Nonference delegates' knowledge of media optimisation and brand suitability. Can you prove the value of your media? Spin the wheel, keep it real…
Today's the day: we're at #Nonference, the self-confessed anti-conference. It's looking to be a packed day of interactive workshops, and hands-on sessions – we can't wait to get stuck in. pic.twitter.com/jP64GHfX71

— Verizon Media UK (@VerizonMedia_UK) 29 October 2019
Session ONE: DONE. Grab a drink and visit some of our sponsors. Head to the Lower Ground Floor to immerse yourself in the world of @tiktok_uk. #Nonference pic.twitter.com/Fkox7AISYz

— IAB UK (@IABUK) 29 October 2019
10.10/Vamp Up Your Validation
Lucy live from Room 2: Patrick Verdon, Technical Director at IAB Europe, shows how its new CMP compliance programme helps the ad tech industry comply with EU law. With the Transparency & Consent Framework (TCF) having been designed to help the advertising ecosystem comply with GDPR, Verdon showed off the IAB Europe's response. Offering a live demo of its new CMP Validator, Verdon explains how the chrome browser extension works, offering optimal flexibility and automatic checks on any site.
10:08/Know It All? Think Again
Jessie live from Room 7: It's all about empathy in room seven as Microsoft Advertising get the audience to pick what their favourite playground game was as a kid and then consider how it can be made more inclusive. Empathy = new ways of working and truly inclusive marketing for clients.
10.05/Demystifying the Bid
Jessie live from Room 5: Crunch time as Index Exchange's Family Feud quiz enters its final stages, challenging the audience to test their programmatic knowledge. How to identify opportunities in the programmatic process, improve monetisation and drive revenue… plus just what are London's busiest tube stations?
10:00/Super Human Stories
Jessie live from Room 3: Inspiring Q&A from Social Chain Media with Kate Farley, the first-ever boxer with cerebral palsy, and Josh Llewellyn-Jones, a world-record breaking athlete with cystic fibrosis. Challenging what's possible, defying the odds and how they're documenting their journeys via social media being discussed. "Sharing my story on social media has opened so many doors" says Kate.
The @IABUK's #Nonference is officially here! Join us this afternoon at 3:20 to improve your moves, your video advertising skills and win a pair of Bose headphones at our Quiet Riot!💃🕺🎶🎵🎶 pic.twitter.com/EuXhMWx84B

— Unruly (@unrulyco) 29 October 2019
9:55/Blockchain: The Missing Link?
Lucy live from Room 4: Myth-busting through interactivity: the7stars, offers delegates at #Nonference a demo to illustrate what Blockchain actually is. "Blockchain is an incorruptible digital ledger of economic transactions that can be programmed to record not just financial transactions but virtually everything of value". The aim? To demonstrate entirely new ways of transferring information, that are possible today thanks to digital tech.
9:45/Be a Stories Pro
Jessie live from Room 1: Phones out and we're learning how to be great storytellers with Instagram in Room 1. Did you know that 500 million of us use Instagram stories every single day!? From how to post a story for the beginners among us through to advanced skills for the Insta veterans, we're covering it all.
@VerizonMedia_UK's Joe opens proceedings in room 4 @IABUK #nonference pic.twitter.com/HEIGtGiB8q

— Ciara McGettrick (@ciara_lucy) 29 October 2019
9.30/Kick off
Three, two, one… Nonference! The first of our 40 sessions are starting right now. Take your pick and get stuck in. We'll be posting from sessions throughout the day, bringing you all the best bits from Tobacco Dock and racking up plenty of steps on our FitBits.
The trumpets have sounded. #NONFERENCE IS GO! pic.twitter.com/du0r7aG0QH

— IAB UK (@IABUK) 29 October 2019
Are you at @IABUK's #Nonference? Microsoft Advertising's immersive 'Know-it-all? Think again' workshop is starting soon. See you there! #MSFTAds #InclusiveMarketing pic.twitter.com/hX8jFXz5wC

— Microsoft Advertising (@MSFTAdvertising) 29 October 2019
Welcome to #Nonference. You won't find a more welcoming bunch anywhere 🤩 pic.twitter.com/HmyiKEojuQ

— IAB UK (@IABUK) 29 October 2019
We're at #Nonference this afternoon with a Brexit session with a difference. Come along at 2:20pm, spin the wheel, learn something and maybe win something. What's not to love?! @IABUK pic.twitter.com/GEUxvdrakr

— Telegraph Works (@TelegraphWorks) 29 October 2019
#Nonference. This way ➡️ pic.twitter.com/FvyOxEGO21

— IAB UK (@IABUK) 29 October 2019
8.30/Here we go
The doors are open, the Gold Standard cash grabber is primed for action and the Wheels of Fortune are in spin… Nonference is underway! We'll be live posting all day so stay tuned for the latest from Tobacco Dock