Was Denis Bergkamp's turn on Nikos Dabizas in the 2002 Newcastle vs Arsenal Premier League match a fluke? Bear with us non-football fans. Jonny Sharples, aka @JonnyGabriel, definitely thinks so, as he told the audience at Twitter's first IAB Digital Upfront in Manchester.
With 52,000 followers and 72,000 tweets sent, blue-tick approved Jonny has built a solid Twitter following via funny football memes and his dogged belief that Wayne Rooney has in fact scored 52 international goals (rather than the oft-quoted 53). Last year he led a headline grabbing campaign to get England's Harry Maguire riding an inflatable unicorn on the new £50 note – an appeal that lost out to Alan Turing.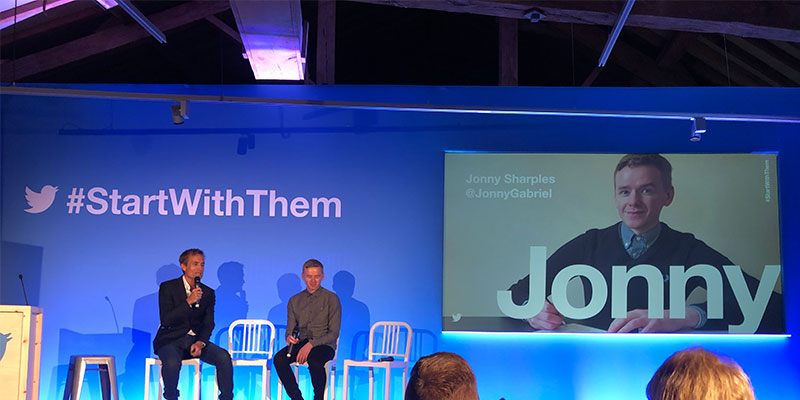 But it's not all about the beautiful game. Thanks to his platform, Jonny has been appointed a CALMzone ambassador, helping to raise awareness of suicide support available for young men. As Jonny puts it: "I use my voice for two very different things… Twitter is all about finding the people that you want to connect with."
Jonny is an example of the "powerful group of people" that use Twitter every day, according to its Planning Director David Wilding. In his view, the secret of Twitter's success is that it's "what's going on in the world right now… that's our superpower". As a result, advertisers can tap into trending topics and even use creative content to become the #trend themselves.
Twitter gave delegates a quickfire run through of how to use the platform to launch new products and connect with what's happening; the likes of Tokyo 2020, London Fashion Week, Love Island and the Six Nations are among upcoming events advertisers can build content partnerships around on the platform.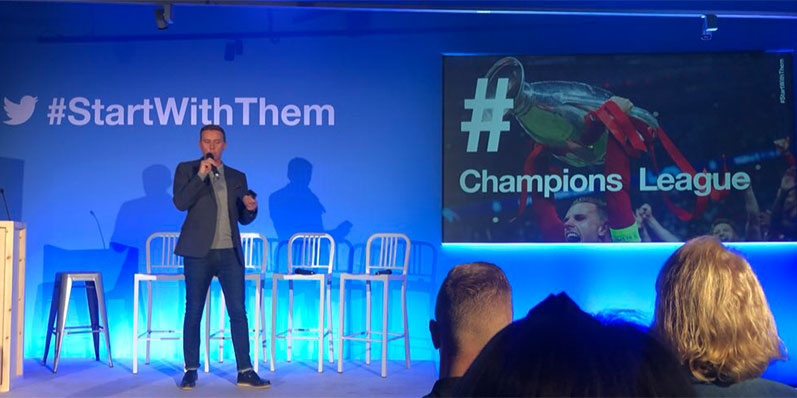 There was also a focus on how advertisers can use Twitter to create engaging in-feed video content (there has been a 67% growth in video views on the platform, according to Head of Video Advertising Solutions Lucy O'Dwyer) and the different tools available to enhance Twitter ads' creative via the recently launched ArtHouse service. Whether it's harnessing the skills of artists via Blue Brush or using Live Brand Studio to launch a new product, it's all about "creating Twitter first content that move people", said Head of ArtHouse Lindsey Turner.
Rounding up the event, Warburtons, Mindshare and creative agency Engine took to the stage to discuss how they executed the bakery brands' #GoodBagles campaign starring Robert De Niro. As the first FMCG brand to use Twitter's promoted trend Spotlight service, the campaign took a social-first approach to create conversation. Warburton's Brand Manager Jennie Bearman said that this allowed the family-owned brand to connect with its everyday customers and enhance the brand warmth associated with it.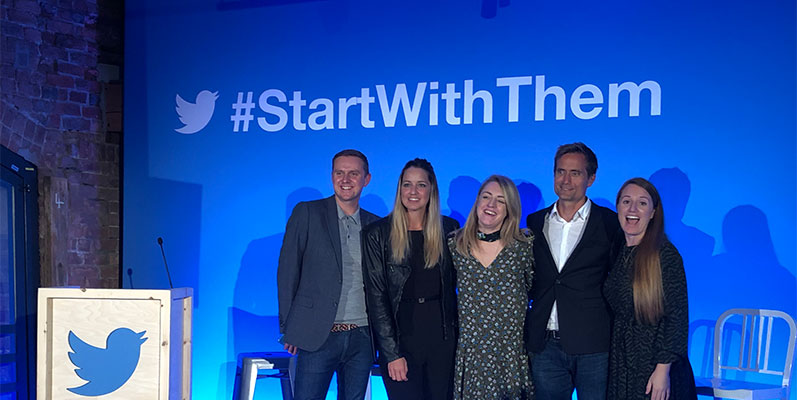 From Bergkamp to Bagels, the event gave advertisers an interesting insight into how to create impact and tap into Twitter's trend-setting audience. And as to the Denis vs Nikos debate, it was settled in true Twitter style via a live poll.